PRIMARY HLH
Your partners in
healthcare
It takes a team of highly knowledgeable healthcare professionals across many different specialties to get the best possible care for primary HLH.
Remember, communication is key. Being proactive and speaking with your doctors about your or your loved one's symptoms is important. It helps them make well-informed diagnosis and treatment decisions.
Image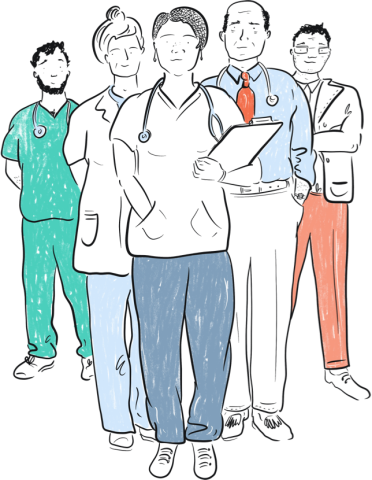 Meet the members of your healthcare team
Many professionals will provide support to you and your family during your primary HLH journey. Knowing a bit about each of their roles may help you feel better informed.
Image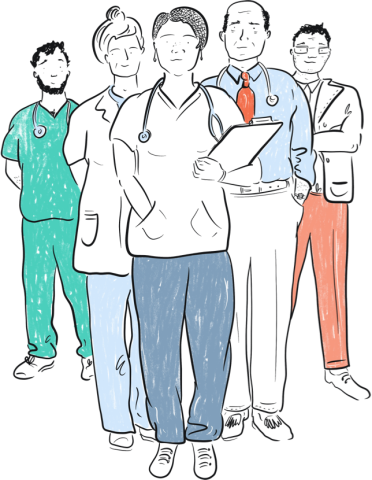 A "hem/onc" is a doctor who focuses on diseases of the blood and cancer. This doctor specializes in conditions like primary HLH and will help direct your or your child's treatment plan.
If you or your child requires a transplant, this team of specialists will guide you through the process. A transplant team may consist of coordinators, surgeons, and other doctors and specialists.
Many hospitals have social workers on staff to help families cope with diseases like primary HLH. A social worker can help you get the support you might need during this time. This could include emotional support, help navigating the health care system, finding financial resources, and more.
Multiple nurses may be involved in your or your child's care. Nurses will assist your doctor with general care, setting up and monitoring infusions, and appropriate care at home.
These doctors diagnose and treat conditions that affect muscles, bones, and joints. They also treat a group of immune system disorders called systemic autoimmune diseases. In these conditions, the immune system attacks the person's own body.
Hepatologists focus on liver disorders as well as the pancreas and gallbladder. Gastroenterologists are doctors who diagnose and treat diseases of the digestive organs, including the liver, stomach, intestines, pancreas, and gallbladder. Because of the overlap between these 2 fields, doctors are often trained in both areas.
A genetic counselor can help you understand the results of a genetic test that confirms the primary HLH diagnosis, as well as what to expect based on those results.
An infectious disease specialist diagnoses and treats serious infections, like those that might occur in a patient who has primary HLH.
These doctors treat symptoms that need attention right away. Critical care specialists usually work in the intensive care unit of a hospital. Pediatric critical care doctors and nurses have special training in treating infants and children.
Image
If you or your loved one has been diagnosed with primary HLH, see how Gamifant could help